AASY Welcomes Senior Iyengar Teacher James Murphy, July 24-26th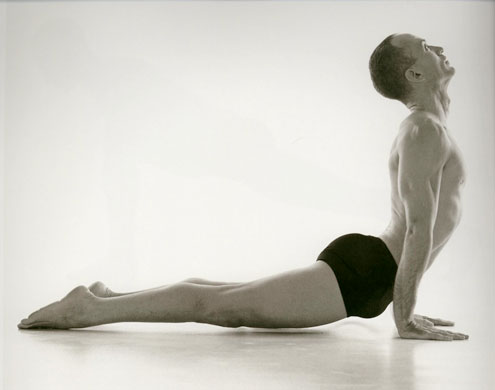 James is the current director of the Iyengar Yoga Institute of New York which he helped found. He teaches his regular classes there as well as runs the Teacher Training Program and a class for students living with HIV.
James is keenly interested in people and cultures around the world, and a popular visiting teacher in many European and Asian countries. His history as a professional dancer with the Nikolais Dance Theater and his close study with Mary Dunn as well as extended trips to the Iyengar Institute has given him a mature knowledge of how to link together important elements of the postures and invaluable experience in observing the Iyengar Method at it's source. James' keen perception and skills of observation combine with a natural talent for teaching to make his classes rich and exhilarating.
REGISTER ONLINE or send in your REGISTRATION FORM.
Special Price Packages
All Day Saturday: $100
Friday and Saturday: $150
Whole Weekend: $200
Friday, July 24th, 5:45-8:15p $55
Touch the Basics towards the Unknown
All levels, beginners welcome
Asana guides us towards levels of self awareness previously unknown. This TGIF evening class will accommodate beginners and also continuing level students in a educative, and refreshing sequence including many categories of asanas.
Saturday, July 25, 9-11:30a $55
Happy Vitality
Completed level 1 session as prerequisite
A morning practice can awaken all the positive physical and emotional strengths we all hope to develop with our practice. Join James with a "get up and go" approach.
Saturday, July 25, 1:30-4p $55
Penetrating and Peaceful
Completed level 1 session as prerequisite
Building on the concept of awakening our vitality, we can also learn to transform that vitality towards a luminous pensive outlook.
Sunday, July 26th, 9a-noon $70
Ropes and Chairs
Level 2 students and above
Iyengar Yoga uses dynamic traction to increase our extensions and expansions! Playful and deep, a practice on the ropes and chairs will open up new space in all of us!
*Space is limited, enrollment priority will be given to entire weekend registrants. Separate class enrollments accepted after June 26th 15th. Registration confirmation will be emailed. Cancellation refunds will be given until June 26th, less $30 cancellation fee. After June 26th refunds will be given only if your spot is filled from the waiting list.