AASY Members $25
Non-Members $30
Saturday Targets with Laurie, 10:00am-12:00pm
* All Target Classes are open to all level of students with some experience in Iyengar Yoga. We hope you enjoy these longer classes to enhance your learning and practice.
June 28: Jump Start Your Practice
This class will help organize and focus your personal practice.
July 26: Chair Practice
Great ways to work on poses from every category with the use of the yoga chair!
August 2: Basics of Pranayama
Yoga practice involves the body, mind and breath. Pranayama is the aspect of yoga that focuses on linking these three with pensive awareness
Teacher Bio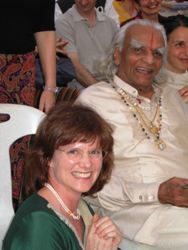 LAURIE BLAKENEY has an Advanced Level Teaching Certificate granted to her by B.K.S. Iyengar. She brings to her class a uniquely personal and direct style of teaching, challenging students while helping them to enjoy exploring their potential. She loves to include artistic and philosophical considerations while staying true to the precision we know to be a cornerstone of the Iyengar method.