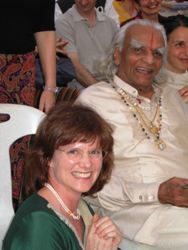 LAURIE BLAKENEY, director (pictured here with Shri B. K. S. Iyengar) has an Advanced Level Teaching Certificate granted to her by B.K.S. Iyengar. She began her Iyengar yoga studies in 1971, and has studied annually in Pune India at the Iyengar Institute since 1983.  She has a BA in comparative religions, and a not so long ago career as a piano tuner/technician.  Laurie has served our national Iyengar Yoga community by being on the IYNAUS Board, chair of the Certification Committee, Curriculum co-chair of 4 national conventions among other committee service.  She was the past the Board President of the IYAMW, and has served as Conference Chair for From the Heartland Regional Conference in Chicago, Sept. 2011, as well as earlier national events.  She brings to her class a uniquely personal and direct style of teaching, challenging students while helping them to enjoy exploring their potential. She loves to include artistic and philosophical considerations while staying true to the precision we know to be a cornerstone of the Iyengar method.
Iyengar Yoga is based on the teachings of Shri B.K.S. Iyengar, the revered Yoga master. Author of the seminal Light on the Yoga, Light on Pranayama, Light on Yoga Sutras of Patanjali and Light on Life. B.K.S. lyengar's religious devotion to the complete subject of yoga popularized yoga throughout the world as thousands now practice and teach his method. Laurie continues her studies annually under the direction of his daughter Dr. Geeta lyengar and his son Prashant Iyengar at the Ramamani lyengar Memorial Yoga Institute in Pune, India.

LINDA DAMON has studied Iyengar yoga since 1994. Teaching since 2004, she was certified Introd uctory Level II in 2007. Linda studied in India at RIMYI in 2011. She studies with Laurie and  continues her teacher education. Linda's years in hospitality brings enthusiasm, warmth, and humor to her teaching.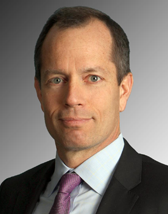 DAVID LARSEN is a certified Iyengar Yoga instructor. He has studied with Laurie Blakeney since 2002, attended advanced classes at the Iyengar Institute in Pune, India in 2012 and 2014, participated as a student or organizer in national and regional Iyengar yoga conferences and conventions, and has served as President of the Iyengar Yoga Association of the Midwest (IYAMW).
Becca Lindsay is an upcoming certified Iyengar Yoga instructor (Level 1 and Level 2) and studies regularly with Laurie Blakeney. Becca is also a member of the Iyengar Yoga Association of the Midwest (IYAMW) Board and co-chairs the Community Engagement and Scholarship Committees. She received her Master of Public Health in Health Behavior and Health Education from the University of Michigan, School of Public Health in 2011. She is also a Certified Health Education Specialist with the National Commission for Health Education Credentialing (NCHEC).With a professional background in public health and health education, Becca is passionate about growing healthy communities and improving health outcomes (in mind, body, and spirit). She is excited to merge her devout love for yoga with her passion for public health.